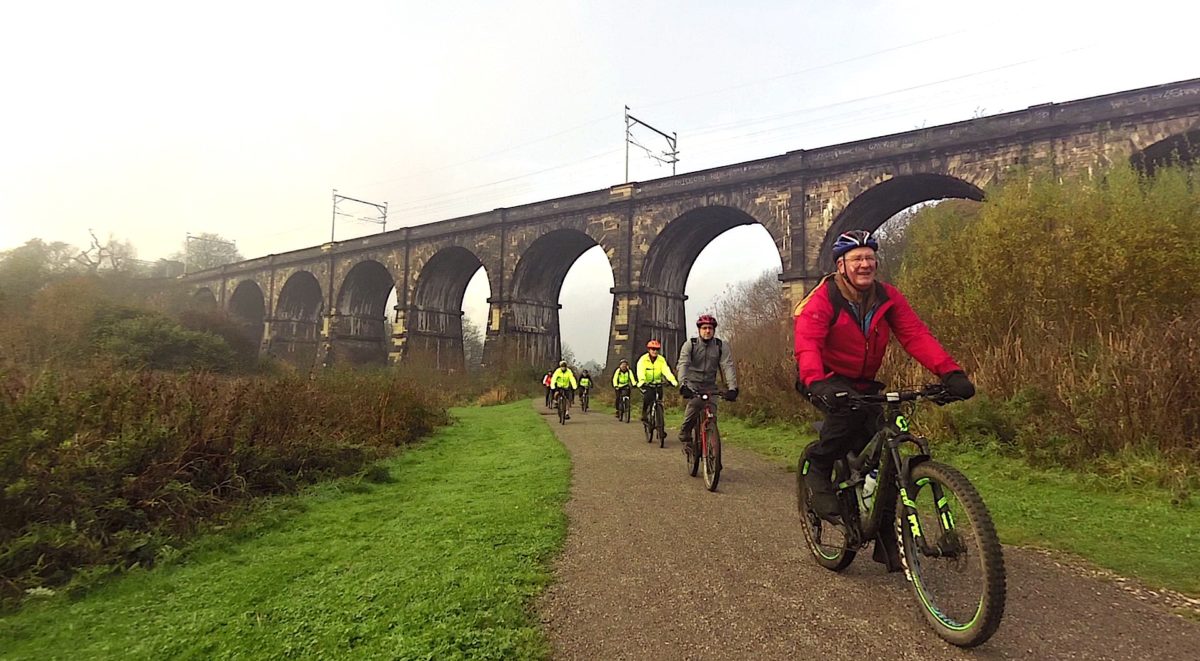 Thursday19th May
Phil B will be leading:
Our Thursday ride this week will be an off and on road mix taking us out to the east side of the borough and back. We will begin by crossing Parsons Meadow on the way out to Hawkley Hall where we will join tracks around the woods before joining the canal towpath. We stay on the canal towpath until we reach Bamfurlong where we will join the road to cross Platt Bridge on our way to Kingsdown. We will then head to Crankwood passing the Morris Dancers Ground on route. We then cycle down Plank Lane and Slag Lane to enter Byrom Hall Woods. When we leave the woods we will make our way across Golborne before entering tracks to Ashton Heath. We will pass through Skitters Wood and proceed through North Ashton. We then have a bit of a climb to Windy Arbour before dropping down into Wigan passing through Alexandra Park before joining cycle tracks back into Wallgate and our start point.
The ride distance is 22 miles. The terrain is relatively flat for the most part with less than 700 feet of climbing. A mountain bike, hybrid or ebike will be needed.
Everyone is welcome to join us at the Brick Café as usual for a drink and snack after the ride.
Starting at 9:30am from Trencherfield Mill, Heritage Way, Woods Street, Wigan WN3 4AT
Non members are very welcome to come along for a ride or two before joining, all we ask is that you fill out one of our membership forms before doing so and bring it along with you as well as your own bike & helmet to use on the ride.
No need to let us know if you're coming along, just turn up on the day!
Membership forms are available for you to download from the website (About Us Page)
Previous Thursday Rides
12th May
Phil B: 21 mile and 1000 feet of climbing over a mix of on and off road. Westwood Way link road, Orrell, Upholland to Hall Green, Beacon Country Park, Elmers Green, Ashurst Beacon, Long Heys Lane, Lees Lane, Canal towpath, Gathurst, Shevington, 'Pads' into Crooke Village, Martland Mill & back to Trencherfield.
5th May
Phil B:
Mainly road with a few trail sections Wigan Park to Kenyon Road, Gidlow Cemetery, Standish, Green Lane and the Standish Mineral Line cycleway to Old Pepper Lane. Heskin, Town Lane, Toogood Lane, Finger Post at Wrightington, Appley Bridge, Mill Lane, pads down to Crooke Village, woods to Challenge Way & canal back to base. 19 miles and 800ft of climbing.
28th April
Phil B: 21 mile and generally flat. Westwood, Amberswood (inc the boardwalks), Park Road, Bickershaw, Road to Nowhere, Fir Tree Flash, Pennington Flash and canal towpath back to Trencherfield.
21st April
Pete H: Bamfurlong via the canal towpath, side of the Railway at Bamfurlong into Viridor, Riding Lane, into Lowton. Pennington Flash and Fir Tree Flash, Bickershaw Lane, Low Hall via the Remand Centre into Amberswood and back to base. 20 miles over a mix of terrain with very little climbing.
14th April
Allan F: Martland Mill, Crook Pads, through Elnup Woods to Standish, short section on the mineral line then along the course of the old Roman road which is now a rough track through Hic Bibbi along Coppull Moor Lane and into Chisnall Hall. Crossing the M6 on a track to Mossey Lee then Cardiac Hill to Wrighington – down through Appley Bridge Up Bank Brew to Roby Mill, through Lafford Lane to Up Holland, track across to Gathurst Rd and back to base via Robin Park Road.
About 25 miles 1125 ft of climbing most of it up Bank Brew !!!
7th April
Graham H: Worsley Mesnes, Scotsmans Flash, canal towpath to Dover Lock, Golborne and through to the East Lancs at Lowton. Cycle lane to the Greyhound roundabout, Windy Bank, Leigh Fire Station, Pennington Flash Country Park and the canal towpath back to Trencherfield. Approx 23 mile and a modicum of ascent.
31st March
Phil B: Swan Meadow Road to join the canal towpath at Poolstock and make our way to Bamfurlong, Viridor, Golborne, Haydock Park and into Newton-le-Willows. Wargrave, Sankey Valley Trail, Carr Mill, Garswood up to Windy Arbour and back to Trencherfield via Pemberton, Alexandra Park and the Saddle. Approx 21 mile, 650ft of ascent and a mix of both on and off-road.
24th March
Phil B: Saddle Junction, Alexandra Park, tracks to Billinge Road, Triangle Valve industrial estate. Hall Lane taking to Orrell Water Park. Tracks Lane, through Tontine and up to Hall Green via Alma Hill, Beacon Park. Circling the tracks around the park dropping down to Elmer's Green and climbing back up again before leaving the park. Crow Lane, Roby Mill, Upholland, Spencer's Lane to Kitt Green rejoining roads through to the DW Stadium via Challenge Way and back to Trencherfield. 20 mile and approx 1000ft of climbing.
17th March
Phil B: Parsons Meadow, Westwood Way, Scotsman's, woods near Pearson's Flash and Cemetery Road into Amberswood. Boardwalks, Whelley Loop Line to Top Lock, Haigh. Little Scotland and Blundell Lane. Arley Golf Course before joining the canal towpath at Red Rock. Sennicar Lane crossing Swinley to briefly enter Wigan Cemetery, Beech Hill followed by the canal at Martland Mill back to Trencherfield. 19 miles and approx 700 feet of climbing.
10th March
Allan F: 21 mile all on road with a hint of climbing (1100ft), Out through Orrell, Upholland, Appley Bridge, Long Heys Lane over the Beacon and back through Pimbo & Billinge
3rd March
Allan F: 20 mile (ish) road ride Orrell – Billinge – Rainford – Crawford & Crank villages
24th February
Allan F: Sankey Valley
10th February
Phil B: Westwood Way cycleway to join the canal towpath at Scotsman's Flash and through to Bamfurlong, track at the side of the railway to join the trail around Viridor. Section of road to Golborne, through to the tracks at Byrom Wood and trails around Pennington Flash. Returning through Crankwood to Abram, canal towpath back to Bamfurlong. Platt Bridge estates, trails through Amberswood and into Lower Ince, tracks behind Westwood and a short section of Westwood Way back to Trencherfield. Approx 21 miles.
3rd February
Phil B: Saddle Junction, cycleway to Marsh Green, side roads through the Marsh Green estate and on to Kitt Green. Orrell and Upholland on our way to Hall Green, Pimbo and into Rainford before climbing into Billinge. Garswood next then Windy Arbour before dropping back down to Wigan, through Alexandra Park and using cycleways to return to our start point at Trencherfield Mill. 21 miles and approx 900 ft of climbing.
27th January
Phil B: 17 miles and pretty flat going. Canal towpath to join the Whelley Loop Line taking us to Amberswood, across Hindley to join Park Road and through the tracks to Bickershaw. Road to Nowhere and Fir Tree Flash. Plank Lane, Crankwood, Dover Lock and the canal towpath to Bamfurlong. Millers Lane estate and back on to Amberswood, across to Lower Ince, Westwood Way joining the cycleway back to the canal towpath and on to Trencherfield.
20th January
Phil B: Parsons Meadow to Worsley Mesnes, cycleway alongside Westwood Way down to join the Leeds-Liverpool canal to Bamfurlong. Tracks around Viridor and Three Sisters. Landgate Lane and back roads through to North Ashton and Garswood. Tracks from Garswood into Billinge, road up to Windy Arbour then dropping down towards Wigan and crossing Alexandra Park before joining the cycleway at the Saddle Junction taking us back to our start point. Nineteen miles over mixed terrain
30th December
Jim T: Just under 20 miles with a height gain of 733 ft, Standish and out through Coppull, Charnock Richard into Eccleston, back along Bannister Green, Barnskin Lane, Toogood Lane, Tunley Lane Shevington Moor before dropping through Shevington, Crooke, Martland Mill and along Stadium Way back to Trencherfield Mill.
23rd December
Rudderless: Five doing this 19 mile mix of road and off road. Parsons Meadow to Worsley Mesnes, Westwood Way, canal to Bamfurlong. Tracks around Viridor & Three Sisters. Landgate Lane, North Ashton and Garswood, Billinge, Orrell, Kit Green & back to base.
16th December
Phil B: Fourteen participants for a mix road and off road. Undulating 19 mile route that including Parsons Meadow, Triangle Valve, Tontine, Roby Mill, Elnup Wood, Standish and Martland Mill.
9th December
Allan R: Just the eight on a road ride of about 23 miles, heading to Eccleston through Standish along the A49 then back via Wrightington, Shevington and Martland Mill.
2nd December
Jim T: Grand total of 19 taking on this 22 mile road ride through Rivington, Horwich, Lostock and Aspull.
25th November
Phil B: Fifteen on the ride up the flight to Rabbit Rocks, Whelley Loop Line, Ladies Lane, Hindley to join the 'pig sty' off road route out to Bickershaw, Fir Tree circling the flash then canal towpath at Plank Lane Bridge, tracks around Pennington Flash before rejoining the canal and returning to Wigan. 19 miles long with 440 feet of ascent.
18th November
Phil B: The majority off road but included some road sections covering 19 undulating miles. Amberswood where we followed tracks through sections of boardwalk. Hindley Green and on to Hindley. Borsdane Wood, Aspull and then dropping through the grounds of Haigh Hall and Douglas Valley before climbing back to join the canal at New Springs following the canal towpath downhill into Wigan.
11th November
Phil B: The route is around 20 miles and will include off road sections including Parsons Meadow, Viridor, Three Sisters, Carr Mill and Hawkley Woods. The terrain will be undulating but the uphills will be gradual climbs, with no long steep ones.
4th November
Phil B: Eleven did this 20 mile route that included the cycleway out to Marsh Green then on to Kitt Green and Upholland, Beacon Country Park exploring some of the tracks. Roby Mill, Tontine and Billinge before descending into Wigan to return on the cycleway alongside the new road.
28th October
Jim T: Nine riding despite the forecast of wind & rain. Cobbled canal out to Challenge Way through the woods to Crooke and onto Giants Hall. Leyland Mill Lane up to the Hall, Balcarres, Borsdane Wood, Amberswood & back to Trencherfield
21st October
Allan F: Seven venturing up the Canal flight through the plantations to Haigh, on the road through Blackrod – Horwich round Rivington back down to Adlington and then we will take the track which crosses the River Douglas via a ford ,if you are feeling brave. Canal to Arley , Red Rock , Boars Head then see how we feel about Wigan Lane or through cemetery to Gidlow Lane.
14th October
Phil B: 11 takers for this one, mainly off road and included the Westwood Way cycleway, Hawkley Woods, Amberswood, Crankwood, Fir Tree Flash and a short section of Leeds-Liverpool Canal. 20 miles on relatively flat terrain with no serious hills.