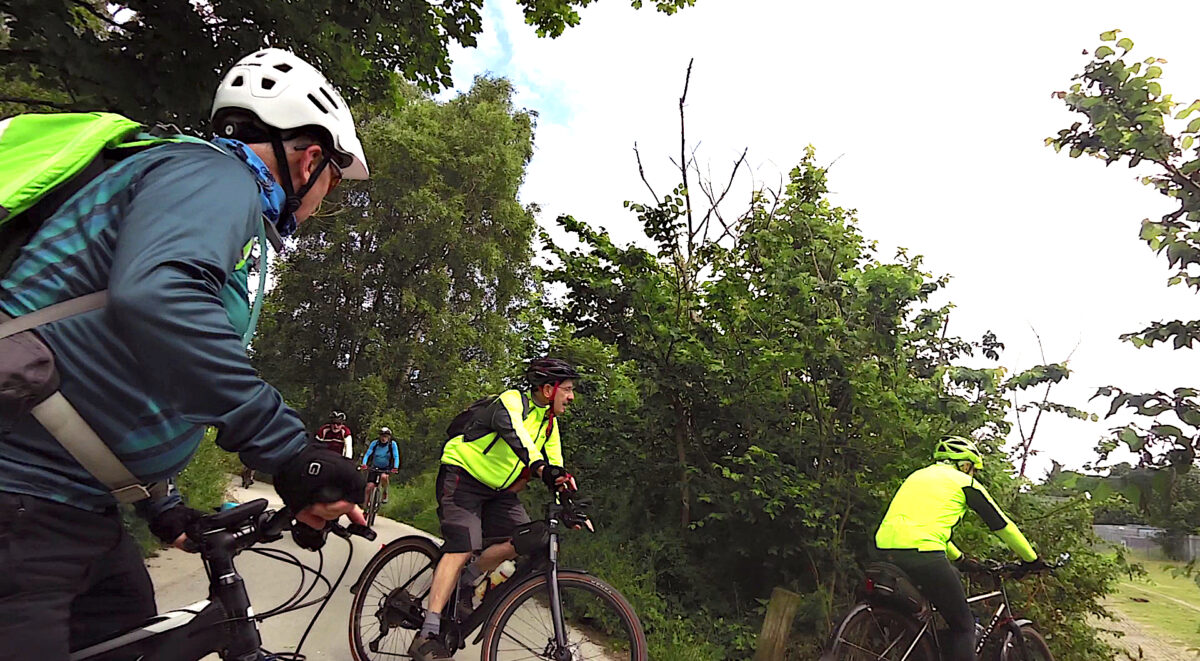 Tuesday 9th August
Jim T will be leading:
Today's ride is a loop around Wigan on a mix of road and off-road, so a hybrid, MTB or e-bike should be OK. It is a 21-mile route involving 700 feet of climbing with the steady climb up Wearish Lane and Dodds Lane accounting for the bulk of this.
From Trencherfield its across Amberswood into Blackberry Drive, along Glossop Way and into Long Lane for the climb up Wearish Lane. From here it's up Dodds Lane, into Dicconson Lane and then Borsdane Wood. We leave Borsdane Wood across the fields into Hindley Golf Course, Withington Lane, past my front door, across Wigan Road and down the track past Aspull Sough Water Treatment Plant. We use a short stretch of Haigh Woodland Park before the trip to Wigan Cemetery and on towards Standish Wood Lane. From here it's through Beech Hill and down to Martland Mill, turning left into Woodhouse Lane before taking a short-cut through Knightshill Crescent and Miry Lane for the run back to Trencherfield.
Everyone is welcome to join us at the Brick Café as usual for a drink and snack after the ride.
Starting at 9:30am from Trencherfield Mill, Heritage Way, Woods Street, Wigan WN3 4AT
Non members are very welcome to come along for a ride or two before joining, all we ask is that you fill out one of our membership forms before doing so and bring it along with you as well as your own bike & helmet to use on the ride.
No need to let us know if you're coming along, just turn up on the day!
Membership forms are available for you to download from the website (About Us Page)
Previous Tuesday Rides
26th July Jim T: 21 miles and approx 1000ft of climbing. Through Wigan to Standish then picking up the Mineral Line towards Mossy Lea Rd. Tunley Lane, Courage Low Lane and Robin Hood Lane followed by up and over Parbold Hill, into Higher Lane, Lees Lane, Mill Lane and Miles Lane into Shevington to pick-up the track down to Crooke. Standish Lower Ground and Martland Mill, Beech Hill Avenue, accessing Gidlow Lane for the run down to Prescott St, Clayton St and back to Trencherfield.
19th July Phil B: 20 miles on and off road route and approx 1000ft of ascent and with two distinct halves. Parsons Meadow into Worsley Mesnes and on to Alexandra Park, track around the back of Billinge Road up to Enfield Street, Leopold Street, Hall Lane, Orrell Water Park, Sandy Lane, Tontine and Alma Hill. Then it's Mill Lane and on to Beacon Country Park, tracks around the park before descending into Elmer's Green, back into the park and a few more tracks before heading to the Prince William, close to Ashurst Beacon. Returning via Beacon Lane and Higher Lane to Hillock Lane and on to Lees Lane, into Appley Bridge where we will join the towpath back into Wigan then using the cycleways from the Saddle Junction into Wallgate and back to The Brick. Just the 6 fools on this one along with some mad dogs!
12th July Paul B: 23 mile and pretty flat at just over 600ft of climbing. Westwood Way, Amberswood, Low Hall, Bickershaw, Fir Tree & Pennington Flashes, Byron Woods, Golborne, Haydock Park, Ashton Heath, Stubshaw, Bamfurlong, canal towpath back to Trencherfield. Seventeen venturing out.
5th July Paul B: 21 miles and approx 1350ft over a mix of on and off-road. Parsons Meadow, Little Lane, Leopold St, Banana Bridge, Holgate, Moor Lane, School Lane, Lafford Lane, Whiteley Lane, Farley & Crow Lane, breather at the top then Long Heys, Mill Lane, Miles Lane, Church Lane, Elnup Woods, Standish Wood Lane, Spencer Lane, Into the Plantations opposite the Hospital, Bottling Wood, Down past Tesco, into Scholes following the Duggy, Warrington Road and finally the canal towpath home. Sixteen riding.
28th June Paul B: Nine again for the 21 mile mix of on and off-road together with about 950ft of climbing. Westwood Way to Ince, Donkey Lane, Amberswood to Hindley, Borsdane Wood, Hall Lane, Wood's Road, St Davids Crescent to the Balcarres. Toddington Lane, Little Scotland, Blundells Lane, Route 55, Red Rock, Chorley Road, Lurdin Lane, Standish Wood Lane, Beech Walk, Arbour Lane into Shevington, Church St, across the pads to Crooke, through the woods and back via Challenge Way the DW and finally cycle path from B&Q over Seven Stars and back to base
21st June Paul B: Just the 9 out on this 21 miler with around 900ft of climbing. Pool St and the canal towpath to Hawkley Woods, crossing Hawkley Estate to Marus Bridge and via Winstanley Estate & Glead Woods to Windy Arbour. Billinge, Crank, Rainford Linear Trail, Crawford, Pimbo, across the fields to Tontine through Orrell and back via Edge Hall Road and the Banana bridge, Leopold St, Little Lane, Westwood Way then the canal towpath and Pool St back to Trencherfield.
14th June Jim T: 22 mile and around 850ft of climbing. Canal towpath to Challenge Way, through the woods to Crooke village, Elnup Wood, Standish Wood Lane. Roundmoor Road and Water Drive / Lurdin Lane linking to Chorley Road and Red Rock Lane. Route 55 to Little Scotland, Toddington Lane, Haigh village, Aspull Common, Wood Lane to Hall Lane, Borsdane Wood, Amberswood, Westwood Way and Towpath back to Trencherfield. 18 venturing out on a lovely sunny day.
7th June Phil B: 22 mile and approx 1000ft of climbing. Westwood Way and cycleway to Clapgate Lane. Bridleways through Winstanley estate to Windy Arbour. Billinge into Crank past Fairfield to the Rainford Bypass. Cycleway to Mill Lane, Higher Lane and a gradual climb back into Crank. Kings Moss Pimbo and Tower Hill. Hall Green, down Alma Hill and through Upholland to Orrell Post. Gathurst Road taking us to Spring Road passing Heinz on our way down to the DW Stadium, Saddle Junction, Worsley Mesnes estate and Westwood Way back to the Brick. 17 riding.
31st May Jim T: 23 miles and about a 100ft of climbing. Boars Head, Jolly Tar Lane, Birkacre, Charnock Richard, Mill Lane, Chisnall Lane and Withington Lane. Next up Town Lane, Barmskin Lane, Toogood Lane and Robin Hood Lane. Appley Bridge Skull House, Shevington, climb up Gathurst Road, down Springs Road and the homeward leg, down past the Heinz factory, along Stadium Way and the canal towpath back to Trencherfield.
24th May Paul B: 23 taking part on this one. Approx 21 mile and a modest 800ft of climbing over a mix of on and off road sections. Amberswood, Low Hall, Fir Tree Flash, Crankwood, Dover Lock, Viridor, Three Sisters, Landgate Lane, Drummers Lane, Windy Arbour, Little Lane, New Linkway, Canal Towpath and finally Pool St back to base.
17th May Jim T: 21 riding this 23 miler with approx 1500ft of ascent. Mesnes Park, Cherry Gardens, Boars Head, Red Rock, Route %% to Adlington, Babylon Lane, Long Lane, Hut Lane, over Healey Nab, Moor Road (Silent Hill) to the top of Anglezarke, Lead Mines Clough, Yarrow Reservoir, Rivington Village, Horrobin Lane, Grimeford Lane, Dark Lane, Aspull & the Canal Towpath back to Trencherfield.
10th May Paul B: Dozen doing this 20 mile with 900ft of ascent. Outskirts of the town centre, down the side of Tesco into Bottling wood and Lower Plantations. Haigh Woodland Park, Hall Lane, Wingates, Pendlebury Lane. Route 55 to Little Scotland, Toddington Lane, Borsdane Wood, Park Road. Low Hall, Amberswood and back to Trencherfield.
3rd May Paul B: Parsons Meadow, Alexandra Park, Hall Lane, Orrell Water Park, Billinge Hill, Crank, Outskirts of St Helens, Carr Mill, Garswood, Bryn, Three Sisters, Viridor, Bamfurlong and the canal back to Trencherfield. 25 mile and approx 1100ft of ascent over a mix of road & trail, 18 taking part.
26th April Paul B: Fifteen takers for this 25 miles and 900ft of ascent outing. Amberswood via the canal towpath, Platt Bridge, Bamfurlong, along the side of the railway into Viridor, Riding Lane into Golborne and alongside Haydock Park into Ashton, Skitters Wood, Garswood, Carr Mill Dam, Billinge, Garswood, Drummers Lane, Landgate Lane, Devils Backbone & back to Trencherfield via the canal & Pool Street
19th April Tony G: 22 turned out for this 25 mile relatively flat ride over a mix of on and off-road. From Trencherfield along the canal towpath to Leigh before picking up the Guided Busway into Tyldesley. Skirting the east side of the town using Common Lane, Cumberbatch Lane and Engine Lane for a tour of Cutacre Country Park. Return leg is via Hag Fold, track alongside Howe Bridge Crematorioum. Hindley via Castle Hill, Seamons Way, Lower Ince and back to base via the canal towpath.
12th April Jim T: Horwich via Haigh Woodland Park, Aspull & Blackrod, Chorley Old Rd, Old Kiln Lane past High Rid reservoir. Chorley New Road, Regent Road, Meadowbrook Trail, Lostock Lane, Wingate Lane, A6, Dicconson Lane to Aspull into New Springs and the canal towpath via Cale Lane back to base. 22 mile in total and approx 1200 ft ascent.
5th April Jim T: Orrell Post, past Orrell Station into Tracks Lane, Billinge, Garswood, Downall Green, Bryn and Golborne. Plank Lane next up followed by Crankwood, Morris Dancing Square, Kingsdown Flash, Low Hall Nature Reserve, Amberswood (Local Nature Reserve) and finally canal towpath back to Trencherfield. 21 mile and around 600ft ascent
29th March Jim T: Sixteen out on this trip to Horwich, 19 miles and about a 1000ft of ascent. Mesnes Park, Cherry Gardens, Haigh Woodland Park, Blackrod, Crown Lane and Vale Ave to the centre of Horwich. Climbing up Church Lane to Victoria Road then dropping down to join Chorley New Road. Bee Hive junction, right onto Alexandra Road, Lostock Lane, Wingates Lane, A6, Dicconson Lane, Aspull, New Springs, Kirkless Street Joining the canal at Cale Lane following the towpath back to Trencherfield.
22nd March Jim T: Sixteen out on this lovely sunny morning. Towpath up to Top Lock, Withington Lane, through Hindley Golf Course across the field and into Borsdane Wood. From here it is past Hindley Cemetery, Sandy Lane, Alder Lane and out through Coupland Drive into West Leigh, cycle track taking us past Howe Bridge Cemetery through Jubilee Park and Lilford Park. Guided Busway into Leigh and then onto the canal towpath over Mather Lane bridge back to Trencherfield. 19 mile and a modest 500ft of climbing
15th March Jim T: Canal towpath past the DW Stadium towards Crooke village. Crooke Pads into Shevington, Elnup Woods and onto Standish Wood Lane. A49 to the Cherry Gardens Leyland Mill Lane, up Pendlebury Lane to the canal towpath along the towpath until Haigh Woodland Park bridge. Through the plantations across New Road and onto Aspull Common. Tracks over to Hall Lane, Gerrard Arms through Borsdane Wood. Hindley town centre. Whelley Loop, Amberswood common and the canal back to Trencherfield. Grand total of nineteen riding covering 20 miles and approx 800ft of ascent
8th March Jim T: Road ride of 24 miles with a total ascent of 928ft. Boar's Head, Chorley Rd, Jolly Tar Lane, through Birckacre and onward to Charnock Richard. A49 then Back Lane for a quiet run through into Eccleston. Bannister Lane, Barmskin Ln, Smithy Brow and on through Wrightington. Old Pepper Ln, into Arbour Ln for the run down through Shevington, Crooke and Martland Mill for the final stretch past the DW Stadium into Trencherfield. 18 windswept volunteers.
1st March Jim T: Standish via the A49, Mineral Line over to Mossy Lea Road and Tunley Lane. High Moor, left at the Rigbye Arms down Stoney Lane into Parbold village. Higher Lane into Lees Lane, Appley Bridge and the climb to Shevington village, Crooke and Martland Mill, before joining Stadium Way for the last leg back to Trencherfield. 20 miles all on road.
22nd February Allan F: 19 mile road ride with a few lumpy bits thrown in. Kit Green to Orrell, over Ashurst Beacon, drop down to Parbold, back up Stony Lane, through Appley Bridge and back to base via Shevington and Standish Lower Ground.
15th February Tony G: 7 ignored the forecast for this one. Out through the town centre and towards the Cherry Gardens via Mesnes Park, past Haigh Hall via Leyland Mill Lane. Down Pendlebury Lane picking up the newly laid canal towpath to Arley (why didn't they do it years ago) and up Blundell's Lane to Little Scotland. Lower Rivington reservoirs via Dark Lane, Grimeford Lane, New Road and Horrobin Lane. Skirting past the Lower Barn and Go Ape following the tracks past the castle to Rivington Lane, Dryfield Lane and Squirrel Lane. Then across the River Douglas and the meadow to Crown Lane. After that it's a short steep climb up Blackrod Brow, down to the Poacher pub and up Scot Lane into Aspull. Cutting through the Council estate to the bridleway and then down through Haigh Plantations to the Whelley Loop Line, the canal again near Rose Bridge and back to Trencherfield. 20 mile covered and approx 1100ft of ascent.
8th February Jim T: Fifteen out on this 19 mile route. Canal towpath to Scotmans, Yellow Brick Road past the Cemetery, Donkey Lane, Amberswood and the Whelley Loop to Belle Green Lane. Short detour to miss the awkward canal crossing, towpath through Haigh Woodland Park, Pendlebury Lane, Leyland Mill Lane past the Cherry Gardens, Gidlow Cemetery via Whitley, A49, Standish Wood Lane, Elnup Woods, Crooke Pads, tracks though to Martland and past the DW back to Trencherfield.
1st February Jim T: 16 braved the blustery conditions for this 20 mile mix of on and off-road. Canal towpath to Leigh, guided bus route, Lilford Park, The Avenue and Old Hall Mill Lane. Jubilee Park, across Atherleigh Way and onto the track alongside Howe Bridge Crematorium. Westleigh Lane, Corner Lane and a quick right turn into Coupland Road, leading to Alder Lane and Castle Hill. Hindley town centre to the Whelley Loop Line, Amberswood Lake, Lower Ince and the canal towpath back to Trencherfield.
25th January Jim T: 10 ventured out into the cold for this 22 miler. Mix of on and off-road inc approx 1400ft of ascent. Through Wigan town centre towards the Cherry Gardens pub, Leyland Mill Lane, Pendlebury Lane. Arley Lane via the golf club Route 55 and canal towpath to Adlington before making our way up to Chorley Golf Course. Technical bit dropping down to cross the River Yarrow using the footbridge, climb up a narrow track alongside a brook to access Back Lane and on towards Anglezarke Causeway. Climb up past the Yarrow Reservoir overspill, down a rather bumpy track into Rivington village. Horrobin Lane, Grimeford Lane, the dreaded climb up Dark Lane and onwards through Haigh Country Park to pick-up the start of the Whelley Loop Line close to the 'waterfall' (the clean water outlet from the Aspull Sough Water Treatment plant). Canal towpath downhill back to Trencherfield.
11th January Denis: 15 takers for this one plus a stray we picked up en-route 21 mile all on road. Gathurst via DW, Shevington, Appley Bridge into Wrightington, Charock Richard & Heskin. Back though Charnock to the Hinds Head onto Chorley Road, Copull Moor, Standish and back to base via Gidlow.
21st December Jim T: Fourteen out on this mainly off-road affair, approx 19 miles with just a few short sections of road. Cobbled canal towpath to Crooke, pads over to Shevington. Elnup Woods to Standish Wood Lane, Lurdin Lane, Red Rock, Route 55, Little Scotland, Balcarres and the track down to the canal, Whelley Loop, Amberswood & back to Trencherfield
14th December Jim T: 23 mile road ride, heading out towards Rivington, a few climbs and then back through Coppull and Standish. 17 riding.
7th December Phil B: Seven riders for a mix of road and off road 22 miles taking in Amberswood, Abram, Crankwood, Pennington Flash, Lowton, Golborne, Viridor and Parsons Meadow and as flat as it gets for the surrounding areas of Wigan with less than 400 feet of ascent.
30th November Phil B: Only 5 brave enough for the back roads and cycle paths to the DW Stadium then on to Crooke Village through woodland at the rear of Heinz factory. Pads into Shevington, roads and lanes from Shevington into Appley Bridge and on via Dalton Lees into Parbold. Through Bispham and on to Wrightington via Toogood Lane and Tunley Lane. Crossing Standish via the Mineral Line cycle path and descending back into Wigan back to our start point. Llittle under 23 miles long with 900 foot of ascent.
23rd November Jim T: 23 riding, 21 miles covered – Westwood Way A49 link road, Goose Green, Lamberhead, across the 'Banana Bridge' and into Orrell. A short steep climb up to Alma Hill leading to Tower Hill, Crawford village, Rainford station where we joined the Rainford Linear Trail for approximately 3 miles. Back through Crank, Billinge and Windy Arbour down to Saddle junction navigating the gyratory system before joining the canal towpath at 7 Stars Bridge for our last ¼ mile back to Trencherfield Mill.
16th November Jim T: 18 riders for a largely on road affair with some short sections off road. Wigan via Haigh Woodlands and through Aspull into Horwich. From there into Rivington, climbing up Royston Road and along the tracks to Rivington Hall Barn. Horrobin Lane, Babylon Lane into Adlington and along the Common dropping down to cross the River Douglas over the bridge (the braver souls, some may say foolhardy souls crossing using the ford). From there back along the canal to Red Rock, Boars Head, Wigan Cemetery and down Gidlow Lane back to the Brick.
9th November Jim T: Mainly off road taking in Amberswood, Low Hall, Kingsdown Flash. Crankwood, Pennington Flash, Byron Woods, Plank Lane & Canal Towpath back to Trencherfield. 19 miles covered 14 taking part.
2nd November Jim T: Eighteen up for this Road ride, 24 miles in distance but without any serious climbing involved. Standish, Euxton, Eccleston before making our way back through Shevington, Crook and Robin Park.
26th October Allan F: Road ride – through Kitt Green to Orrell post, Up Holland, Ashurst Beacon, Parbold, Stoney Lane Wrightington and then back through Crook and Woodhouse Lane or Canal bank
19th October Phil B: The forecast of bad weather (which never happened) decimated the turnout for this one, The hardy three took a simpler alternative to the planned ride and headed out through Golborne to Pennington Flash before returning to Trencherfield via the canal. The planned ride to Parbold & Dalton will be done at a later date.
12th October Allan F: The route took us through the town centre – the Park – up to the Cherry Gardens and Wigan Lane – cutting through to Standish Wood Lane on to the Mineral Line – A49 to Chisnall Hall Nature Reserve – through to Mossey Lea – top of Cardiac Hill – Appley Bridge – Crook Pads and return. About 19 miles of Road and Track