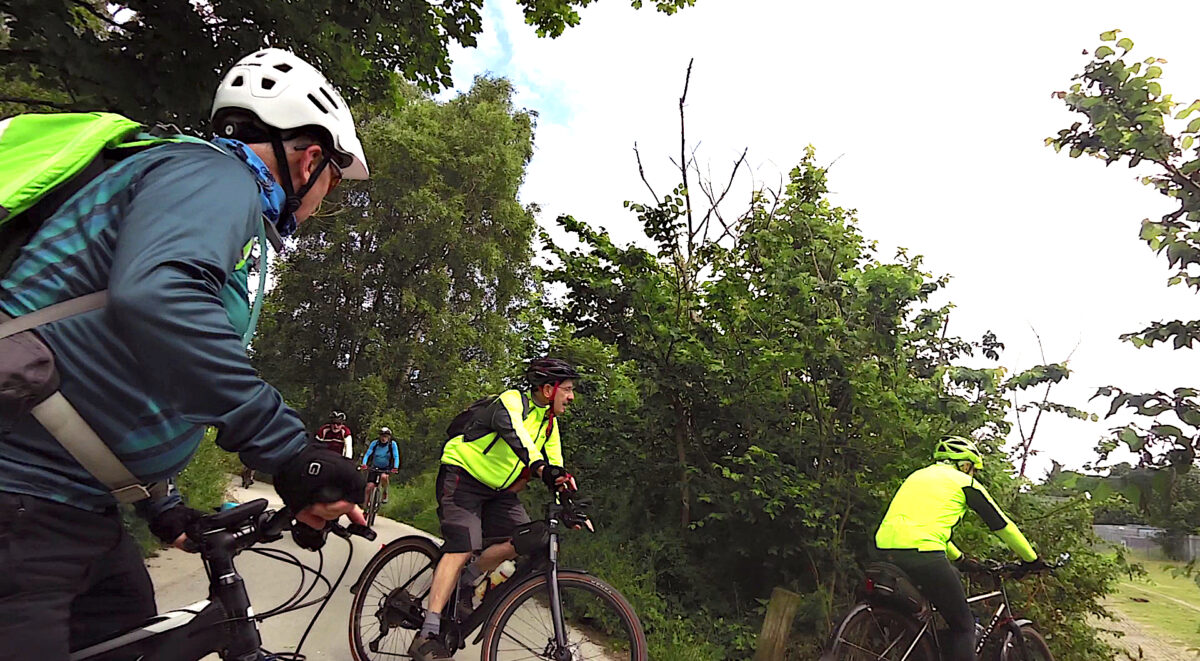 Tuesday 29th November
Jim T will be leading:
Tuesday's ride is a relatively simple ride of almost 19 miles, with a total ascent of 679 ft. It is largely on road so a road bike or hybrid would be the most suitable type of bike for this ride. The route is one we have done on many previous occasions and is likely to be familiar with many of you.
We leave Trencherfield Mill along the Wallgate cycle track before turning into Firth Street for the run past the DW Stadium to Challenge Way. This then leads us up to Orrell Post, along Moor Road, through Longshaw and into Billinge. We then use Newton Road to take us down through Garswood, Bryn and along Bryn Road to join Bolton Road (A58). We stay with Bolton Road through Bamfurlong and Platt Bridge before turning into Amberswood Local Nature Reserve and use the Whelley Loop Line to get us to the canal at New Springs for the easy downhill run back to Trencherfield Mill.
Everyone is welcome to join us at the Brick Café as usual for a drink and snack after the ride.
Starting at 09:30am from Trencherfield Mill, Heritage Way, Woods Street, Wigan WN3 4AT
Non members are very welcome to come along for a ride or two before joining, all we ask is that you fill out one of our membership forms before doing so and bring it along with you as well as your own bike & helmet to use on the ride. No need to let us know if you're coming along, just turn up on the day!
Membership forms are available for you to download from the website (About Us Page)
Previous Tuesday Rides
22nd November Allan F: 20 miles. Cherry Gardens, Standish, Mineral Line, A49, Chisnall Hall nature reserve, Mossey Lee Lane. Back via Church Lane,Toogood Lane, Robin Hood Lane, Appley Bridge, Shevington, Crook Pads, Martland Mill and back to base.
15th November: Ride cancelled due to weather conditions
8th November Paul B: 23 miles with around 900ft of climbing. Parsons Meadow, through Pemberton, Banana Bridge into Orrell, over the fields from Tontine to Pimbo and through Crawford to pick up the Rainford Linear Trail. Crank Road, Billinge, Simms Lane End, Drummers Lane, Landgate Lane, Devils Backbone, Hawkley Woods, Canal towpath to Pool Street and back to Trencherfield.
1st November Jim T: 21-mile and 740ft of ascent. Amberswood through to Hindley Green and Wearish Lane to get to Westhoughton. Southfield Drive, Mill Street and Bolton Road to Chew Moor Lane. St John's Road and Tempest Road skirting Rumworth Lodge Reservoir along Junction Road West crossing Beaumont Road into Beaumont Drive. From here we join Junction Road and onto a bridleway taking us to the Middlebrook Trail. Alongside the brook until Lostock Railway station. Through Regent Park Golf Course to Academy Way, then Lostock Lane to the A6, Cooper Turning, Dicconson Lane then Withington Lane and the towpath back to base.
25th October Jim T: 18 miles and 800 feet of ascent. A49 through Standish until Coppull Moor Road, Green Lane and Jolly Tar Lane. Chorley Road, Rawlinson Lane and along the A6 for a short run into Adlington over the Common before crossing the River Douglas ford at the bottom of Storey Lane. Little Scotland into Haigh for a run through the Woodland Park. Climb up to the River Douglas Flood Defence Dam, around the rear of the Tesco Superstore into Standishgate, Wrightington Street and Mesnes Park Terrace to make our way to Prescott St and Miry Lane back toTrencherfield.
18th October Jim T: Just over 18 miles and a meagre 363 feet of ascent. Amberswood and Low Hall Local Nature Reserves into Bickershaw. From here the Morris Dancing Ground on Park Lane before Crankwood Lane to Pennington Waterside Marina to join Slag Lane. Byrom Hall Woods through Golborne, Edge Green Lane and Riding Lane, into Three Sisters Local Nature Reserve, Scotsman's Flash and back to Trencherfield.
11th October Tony G: 20 miles and approx 1000ft of ascent over a mix of road, towpath and trails. Canal to Martland Mill across Crooke pads to Gathurst Lane, Miles Lane to Appley Bridge and Lees Lane to Dalton. Parbold Village, The Common. Stoney Lane, Tunley Lane, Mossy Lea Road, Old Pepper Lane to the Standish Bike path. Green Lane to join Wigan Road down to the Cherry Gardens. Then the regular route home via Spencer Road, Frog Lane, Prescott St etc.
4th October Phil B : 22 miles 600 feet of ascent. Out towards Westwood Way cycleway through to Goose Green onto the cycleway to Clapgate Lane. Winstanley estate to Beech Walk, following road into Pine View before joining a final section of path up to Windy Arbour. Following Winstanley Road down via Leyland Green Road and into North Ashton. Cutting through Brocstedes to Landgate and then into Landgate Lane. Entering the Three Sisters Nature Reserve and circle the reserve. Cutting through Skitters Wood to emerge on Woodedge making the way to Ashton Heath. Joining a path down the side of Haydock Park Racecourse taking us into Golborne. Heading back towards Stubshaw Cross and take to the tracks around Viridor and alongside the railway into Bamfurlong. Through the Millers Lane Estate and onto Amberswood returning to our start point via Westwood.
27th September Jim T: 21 miles and approx 1150 ft of climbing. From Trencherfield out towards the Cherry Gardens, through Haigh Woodland Park to Aspull and into Blackrod, Station Road and Crown Crown Lane into Rivington. Royton Road leading to Rivington Hall Barn, Sheep House Lane and over to Alance Bridge skirting along Yarrow reservoir before dropping down the side of the overspill. Nick Hiltons Lane and Babylon Lane down into Adlington joining the canal to Arley, through the Golf Course to Red Rock, Chorley Road, Boars Head, Gidlow Cemetery, Gidlow Lane, Prescott Street and back to Trencherfield.
20th September Jim T: 22-mile journey out to Tyldesley on roads and trails with only 300ft of climbing. From Trencherfield we travel through Lower Ince into Amberswood through Low Hall into Hindley Green via Glossop Way and into West Leigh, cycle trail to Howe Bridge Crematorium, Jubilee Park and using Old Hall Mill Lane to Lilford Park. Guided Busway to Astley Street onto Manchester Road and Surrey Ave to join the Canal for the return to Trencherfield.
13th September Jim T: 24 miles Road ride with 795 feet ascent. Out towards Standish, through Wrightington and Heskin before returning via Anderton's Mill, Parbold, Lees Lane. Appley Bridge and Shevington.
6th September Peter H. 22 miles with 500 ft of ascent. From Trencherfield along the canal to Bamfurlong into Viridor Wood continued to Riding Lane, Edge Green Lane into the center of Golborne then to Tanners Lane, Windsor Road to Scott Road, Pennington Flash. Returned via Fir Tree Flash, West Leigh, Hindley Green and Hindley to pick up the Whelly Loop Line and back to the Brick. Suitable for Hybrid, MTB or e bike.