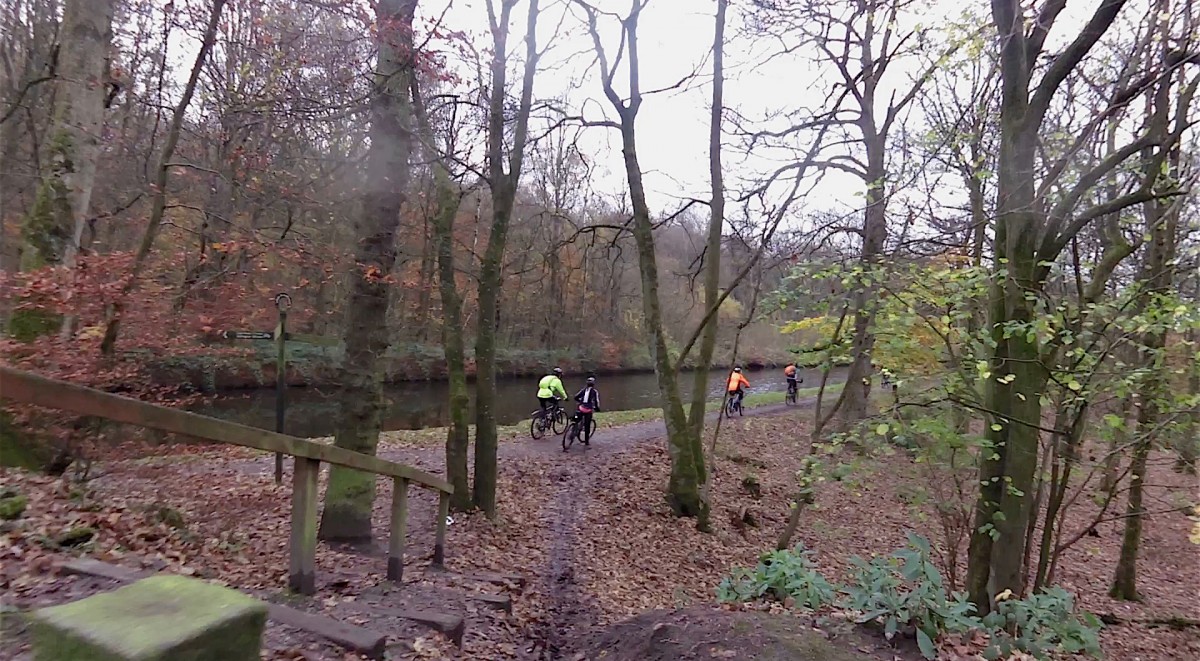 Hope it wasn't just me but I really enjoyed this one! Beautiful crisp morning, ice in the puddles to break with the wheels, winters almost here it seems! Sixteen of us on this outing, the last of our current Ride Socials, (don't worry there will be more). Changed the direction of the route to avoid a few possible danger spots with the icy roads, much to the dismay of one or two I might add, meant we had to climb Red Rock and Dark Lane instead of descend them, fair point I suppose. Anyway, nice flat start to the ride along the canal to Crooke Village, across the fields to Shevington & through Elnup Woods into Standish. First and only puncture of the day happened at this point, Thelma having wisely put in self sealing tubes found out the hard way that they don't always work, didn't have a spare so offered to make her own way back to Wigan.  She wasn't getting out of the upcoming hills that easily, suitable replacement tube was found and quickly swapped, even Roy lent a hand. No I didn't get the name mixed up you heard correctly it was ROY, wonders will never cease!
Lurdin Lane next followed by a little climb up to Red Rock, Wigan Golf Club, canal to Adlington, short gentle climb along Babylon Lane, past the Yew Tree Inn and around Yarrow Reservoir for our Coffee stop at the Bowling Green. Many thanks to Geoff for suggesting this cafe, really was superb, definitely have to plan a few more routes with it in mind. Must have been a tad cold outside because everyone came in for a brew, usually get one or two brave souls miss out, but not on this occasion. Suitably warmed and refreshed it was off to Liverpool Castle and a History lesson off our very own Jim, hope you all paid attention, there will be a test to follow! (the answers can be supplied for a small fee). The slight climb that is Dark Lane with Toddington Lane to follow saw our climbing exploits for the day well and truly over, much to everyones relief. Funnily enough my ears stopped burning at roughly the same time, must have just been a coincidence, can't think of any other reason! Downhill from here through Haigh Hall and with a bit of dodging and weaving the canal back to Trencherfield for post ride de-brief at Wigan Central.
Alan suggested that our Chairman if he was worth his salt, bearing in mind the amount that we spend in there, should try to negotiate some sort of WBCCC discount. We do tend to frequent the place on a regular basis, will let you know how that develops!!!
Thanks for coming along everyone hope you enjoyed the ride, know Enid did, stayed on the bike up all the climbs, way to go Enid!