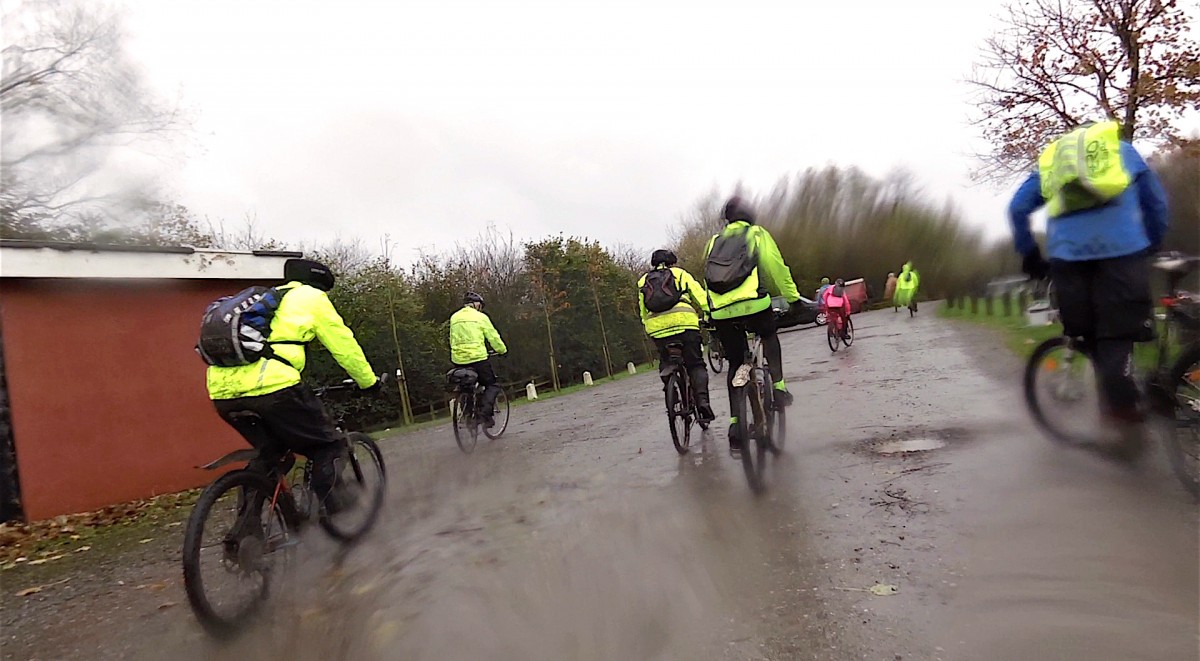 It had to happen eventually, a proper wet & muddy ride, Anthony & Roy were over the moon. Anthony must have anticipated the conditions, hadn't cleaned his bike from the previous day, first time ever! Few debates on the route regarding leader, distance & ground conditions, resulted in a nice flat journey over to Pennington with Alan having been coerced into leading his first WBCCC ride, what could go wrong?
Landgate Lane was a touch on the muddy side, but no worse than most places considering the heavy rain, got a far as Plank Lane along the canal before the gremlins struck. Club record for punctures on a single ride was 5, shared between 3 different people, that was certainly going to be tested. Jim had the first one shortly after leaving the bridge, Phil was next part way round the lake and yours truly shortly after. Not quite sure how, but we all met up back at the bridge, Jim apparently had never left, he'd brought the wrong spare tubes and had to resort to repairing, not the easiest task in the rain! As it happened he'd had 3 in total, unwanted record broken!
While the repairs were being completed we had a spot the muddiest rider competition, Brian was deemed the eventual winner but it was a close run thing, only two somehow managing to emerge unblemished Anthony & Tracy, need to find out their secret! Repairs completed and wheels reattached it was a rather damp ride back to base at Three Sisters, enjoyed it all the same.
Treat in store for us when we eventually got back, Thelma had baked us a tray of Rocky Road, Cheers Thelma, not a lot got left I'm afraid, a few crumbs at best. We managed to put back on all the calories we'd lost on the ride, it was delicious though, do we need to get our order in for next week? Just as we were ready to leave, Len informed us that he'd got a puncture as well, only a slow one though so fingers crossed it would get him home. Six punctures between 4 riders, hope thats us done for a while, at least while its raining anyway!
Thanks for coming everyone fourteen of us this week, the full shillings had sensibly stayed at home. Cheers for leading Alan, what have you got planned for us next Tuesday?