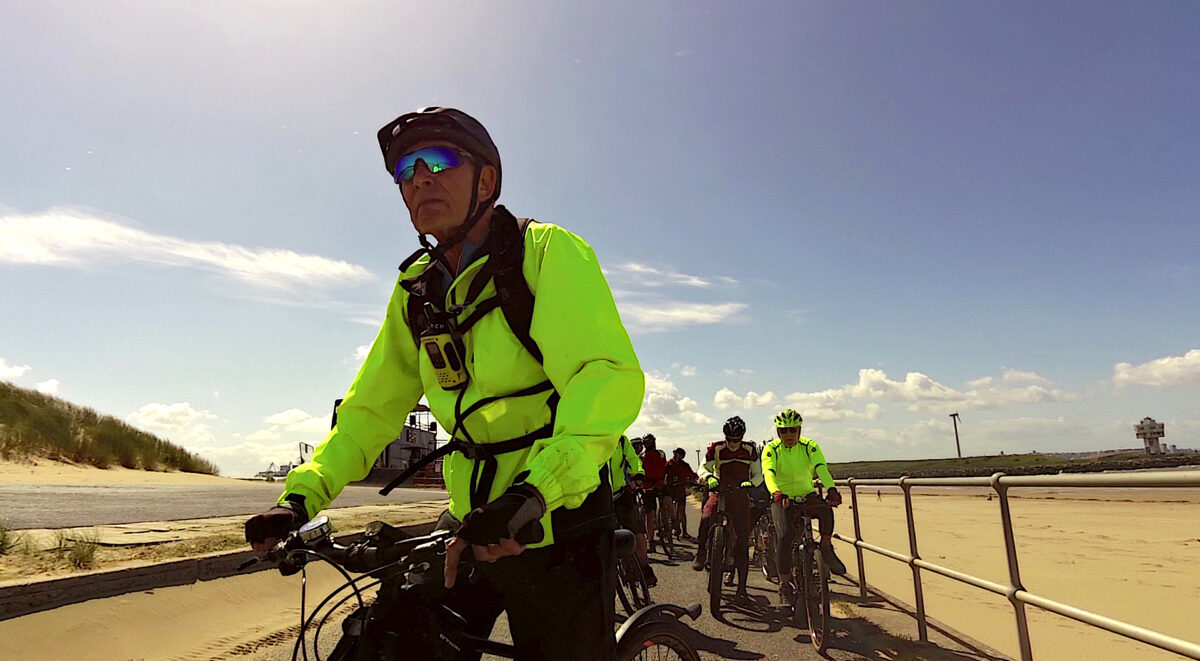 Windswept Dozen or Sandblasted Dozen (not quite the same ring to them as the Dirty Dozen) but a good description of the conditions nonetheless.
Meeting point was a tiny carpark that we managed to cram 6 vehicles into and park a seventh close by on a grass verge. Singletrack to begin with heading through a narrow stile affair with Phil at the helm and Pete close behind. We were underway for all of 10 seconds when Pete suddenly realised he hadn't picked up his backpack, at least he only had 10 other riders to squeeze past in order to retrieve it. Drama over we were underway again winding our way along various trails tracks and canal towpath towards Crosby and our first taste of sand (literally). Brief drinks stop and we were underway again heading towards Hightown along the Crosby Promenade. Couple of hundred yards in and it was about turn, the sand drifts got the better of us, back wheels were fishtailing all over the place. Hasty re-route with a little help from John M and an inland alternative was found taking us through to Hightown and onwards to Formby cutting through the golf course and nature reserve (didn't see any Squirrels though). Push through sand once more before reaching Ainsdale and our planned lunch stop at Me Cycle. Think everyone was glad of the breather, to be fair though we had covered about 75% of the route. Final few miles took us via the coastal path and inland once more to pick up the Trans Pennine back to our starting point in Lydiate.
Approx 28 miles covered in challenging conditions. Thank's to Phil for leading and Denis for back-marking (we did lose him at one point but quickly remedied the situation).