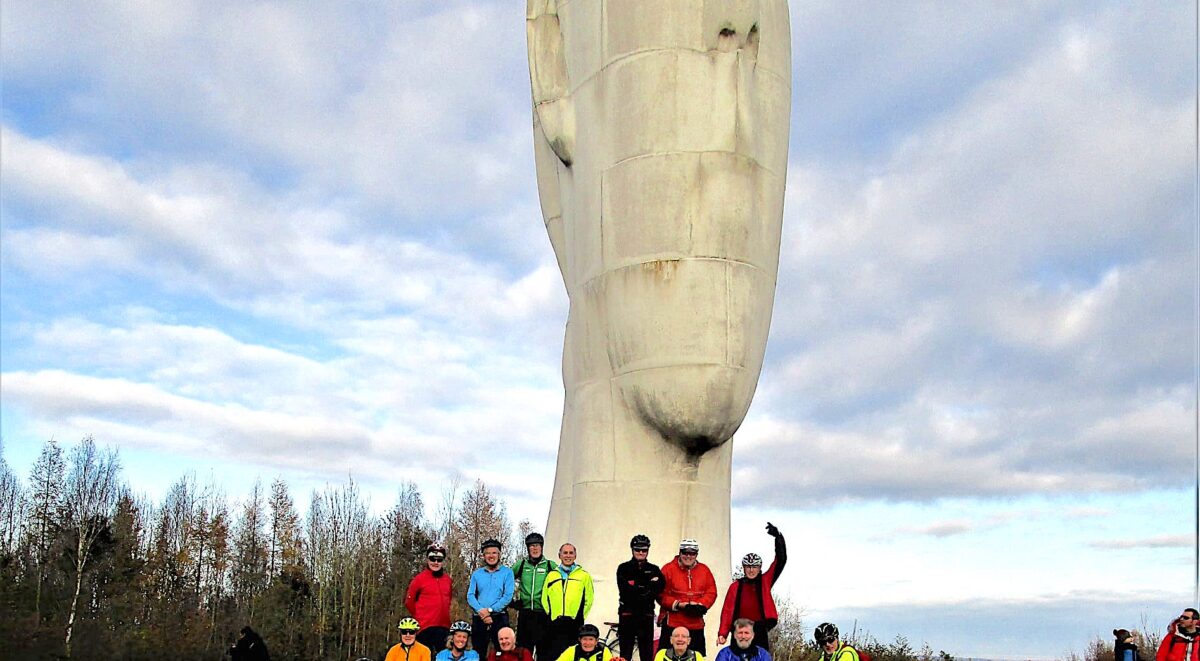 Planning a ride at any time of the year leaves you at the mercy of the weather, especially during the Autumn & Winter months. So what a delight it was to wake up to a beautiful sunny and breeze free day for our journey to the Dream. We covered 38 miles cycling and another, what seemed like 5 miles of walking, for those that used the cafe that is. Reminded me of Ikea!
First though we needed some riders, 10 mins to start time and only three present at the meeting point. Despite putting a link to google maps on the website, along with a what three words location and having started countless rides from there over the years, a further dozen participants had created their own random meeting point nearby. Not a clue why or how, you can lead a horse to water and all that…..
Quick briefing, (very quick) and the fifteen of us set off via Three Sisters and Viridor on our way to Sankey Valley picking up Clive and Geoff along the way. A short stop along the way to pay our respects with a minutes silence and we reached the outskirts of Warrington and were met with a significant  increase in the number of other cyclists and walkers etc using the trails. Slight tumble for Sue during this phase, trying to avoid a rogue dog that wasn't under control, (unhurt thankfully) both her and the dog, could have been much worse! Slight mechanical issue along with the delightful profanities of a rather charming young lady who along with her many children, really didn't appreciate us being there….. Those few incidents saw us through what would prove to be the busiest part of the ride. Just glad Sue was okay! Continuing through the Valley and along the St Helens canal towards Widnes, pausing briefly along the way to admire the new mersey bridge we arrived at out lunch stop more or less bang on time. Would the next leg go quite as well?
Lunch and 5 mile hike over, we bid farewell to Richie as he made his way home to Huyton and we made our way to our main ride objective The Dream.
Few useful / useless bits of info:
· Designed by world-famous, award-winning Catalan artist Jaume Plensa
· Standing on a plinth, Dream is 20 metres, 66 feet high and is fifty times life size
· The sculpture weighs 373 tonnes and sits on the site of Sutton Manor Colliery
· Made from brilliant white pre-cast concrete with Spanish dolomite, the whitest marble
· The plinth in the shape of a miner's tally is 17 metres in diameter, made of 36 units
· The casting of Dream by Evans Concrete of Derbyshire took a total of sixty days
· A total of 6160 man hours were spent in constructing the sculpture
· 54 different panels each weighing 9 tonnes comprise Dream's head
· The supporting piles go 38 metres underground, nearly twice Dream's height
· An estimated 55 million vehicles pass Dream each year on the M62
Most of the group took the short steep route up to the sculpture and nearly all managed it admirably. Usual group photo and quite a bit of chat later it was time to leave for the homeward leg. Would we make it back before the light faded? Burtonwood was next on our route followed by Bradley Lane back to our crossover point in the Valley. Bradley Lane is unsurfaced and becomes single track, all downhill and with a tight left hand bend at the bottom, leading directly onto a very narrow bridge crossing over a stream. The group were briefed accordingly as per Risk Assessment and advised to leave an adequate gap between each other to avoid any issues or collisions etc. What could possibly go wrong? Given a thousand guesses you'd be unlikely to get this one right. On reaching the tight bend smack in the middle of the bridge were two young lads, complete with skate-boards, trying to man-handle a fifteen foot long 6 inch diameter tree branch across the bridge! Needless to say it didn't go as i'd planned, future Risk Assessments may need revising to cover all manner of eventualities! Fair do to the lads though, they managed to get it out of our way, eventually!
Bidding farewell to Clive we set of for Carr Mill and were making good progress when the radio sparked into life alerting us to a puncture, not really what you want to want to hear when you're chasing the light (one or two were getting a bit twitchy I can tell you), but hey ho, these things can and do happen to all of us at some point. On reaching the Dam the puncture reared its ugly head again and Elaine kindly offered to sit out the rest of the ride in the nearby pub (complete with alcoholic beverage of course) while Hubby Richard rode back for the car. This very selfless act by Elaine at least gave us a fighting chance to complete our journey in the daylight. Geoff left us at this point and then it was hey lads hey through Garswood and to the outskirts of Bryn. This is where we did the wbccc equivalent of the Red Arrows, heading off in every direction on our separate journeys home, leaving just the six of us to return to Three Sisters still in the daylight at 3:45pm.
Seventeen riding in total, 38 miles covered, 1000 ft of ascent and roughly 4 hours riding time.
Thanks for the company everyone, till next time……