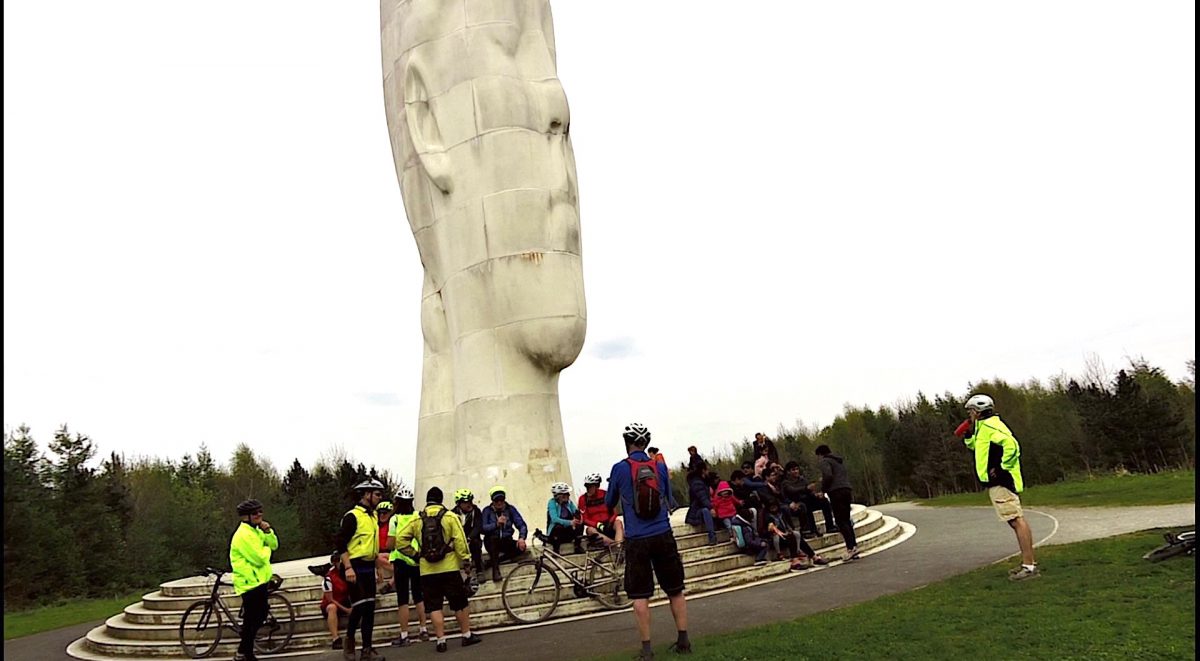 This ride certainly brought out some interesting riding styles and vehicles at the lunch time stop at Walton Hall Gardens Cycle Museum.  The locals seemed quite bemused by the activities.
Mersey Gateway
We had a brilliant turnout for our latest fortnightly ride. 27 of us gathered at the car park close to The Dream in St Helens for Clive's Mersey Gateway, including new members, Richard and Elaine joining us for their first long outing.
Clive outlined the route that was largely off road with just a few short sections of generally quiet roads. The convoy then set off to join the old railway line heading out towards Bold Industrial Estate. After passing through a gate, less than a mile into the route, we had our first mechanical problem. Denis' back brakes had locked on but Jim H's tender touch soon sorted the problem and the rear-guard were back with the main group in no time. Thankfully, our visions of another ride disrupted by mechanical problems didn't materialise as the rest of the ride went smoothly.
We seemed to be at Spike Island in no time for a water stop but it took rather longer than Clive had expected. Half the group decided that the water stop was not just intended to take on water but also to dispose of some as well! Anyway, we were soon making our way up and over the Widnes-Runcorn Bridge where the strong winds buffeted us on our crossing. We then joined the picturesque Bridgewater canal for several miles where there was plenty of wildlife for us, and particularly our expert twitcher John S, to admire as we wound our way to Walton Hall for our lunch stop. We had one moment of concern when Fran went AWOL at one point but thankfully Jim H and Mark managed to track him down.
We arrived at Walton Hall to be greeted by Paul, the cycling museum curator. He had kindly reserved a yard with tables and chairs and plenty of room for our bikes – a good start but it got better. John B had also beaten us to get there. He was reccying his upcoming Daresbury ride and had dropped in to join us. After we had enjoyed a drink and a bite to eat we headed to the museum where Paul invited us to have a try on some of the bikes in his collection. We had a ball zooming around on a range of old bikes with the usual suspects at the forefront, of course! No need to mention any names the photos will no doubt tell the story.
We thanked Paul for his kindness then began the return journey soon joining the Trans Pennine Trail and passing the new Mersey Gateway Bridge rising imperiously over the river. We progressed steadily and shortly after leaving the trail said goodbye to our cameraman, Richie, who was returning home by bike. The next highlight was the climb up to The Dream. It's not an easy climb on rough footpaths that provide limited grip but some of us managed the full climb while others made a valiant effort before resorting to Shanks Pony. Following a team photo at The Dream we carefully eased our way downhill and back to our start point.
Our thanks go to Clive for a terrific ride and to Richie, our roving cameraman. We might just be doing this ride again next year!